Duct Cleaning Services in Rockingham, NC, and the Surrounding Areas
HCI Fire and Water Restoration offers air duct cleaning services at an affordable price. Did you know The National Air Duct Cleaners Association recommends getting your air ducts cleaned every three to five years? Contact the certified technicians at HCI for an estimate today.
Improve Your Indoor Air Quality
Increase the Energy Efficiency of Your Home
Lower Your Utility Bills
IICRC-Certified Technicians
There are several factors that can increase your need for a routine air duct cleaning schedule. Here are some additional factors:
Pets
Occupants with allergies or asthma
Cigarette or cigar smoke
Water contamination or damage to the home or HVAC system
Home renovation or remodeling projects
Besides your dirty HVAC system or a clogged filter, there are two other main reasons to clean your air ducts regularly.
Indoor Air Quality - Through normal occupation in a home, we generate a lot of contaminants and air pollutants, such as dander, dust, and chemicals. These contaminants are pulled into the HVAC system and re-circulated five to seven times per day on average. Over time, this re-circulation causes a build-up of contaminants in the ductwork. Do you like the idea of spreading contaminants throughout your home, potentially making you sicker and becoming more harmful to your health? Duct cleaning is a great and fast way to get your home's indoor air quality back to normal.
Energy Savings - According to the U.S. Department of Energy, 25 to 40 percent of the energy used for heating or cooling a home is wasted. The contaminants that build up in the duct line and HVAC filters cause the HVAC system to work harder than it needs to. After a duct cleaning, your system works more efficiently, saving you money by not working as hard.

When it comes to duct cleaning in your home, HCI Fire and Water Restoration cleans your entire HVAC system. This process includes all components –
Air Ducts
Coils
Drain Pan
Registers
Grills
Air Plenum
Blower Motor and Assembly
Heat Exchanger
Air Filter
Air Cleaner
The two main steps involved in cleaning your HVAC system is breaking loose the contaminants in the duct line and then collecting the air pollutants and contaminants.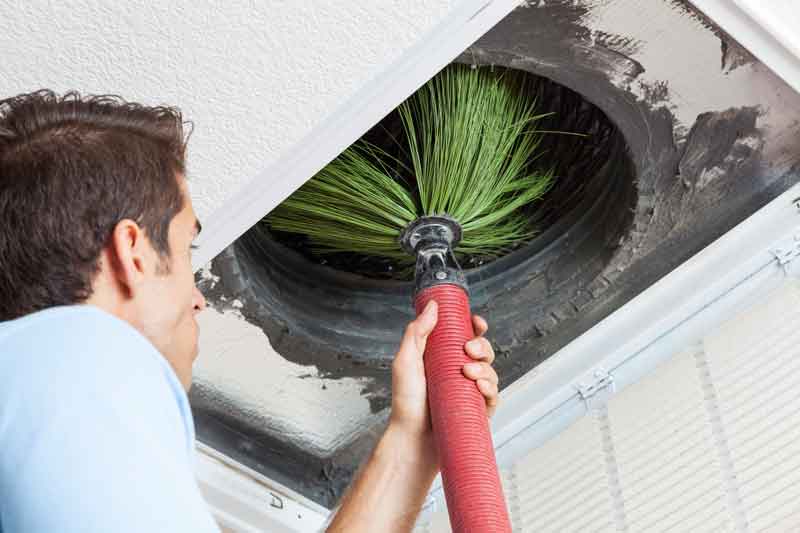 Cleaning Process
We use a "spider wand" that goes into your air duct lines and spins in a circular motion; the "branches/tentacles" of the wand hit the walls of the duct line and break loose all of the debris that has been building up in your duct line. We have to do this at every register to makes sure we get all the contaminants off the ducts' walls and ready to be collected.
Collection of Contaminants
During the entire HVAC system cleaning process, HCI Fire and Water Restoration will cover the registers and place the heating and cooling system under negative pressure. The continuous negative pressure allows very fine particles to be removed from the system as they become airborne, ensuring these particles are not released into the living space when the system is turned on after cleaning.
Once the cleaning process is over, you will notice a far more efficient HVAC system, clean vents, and a better indoor air quality as well.