Basements are notorious for attracting unwanted water. Because they're underground and a common location for plumbing, appliances, and utilities, they're ripe for water damage. If you find water in your basement, you need to find out where it came from and how to fix it.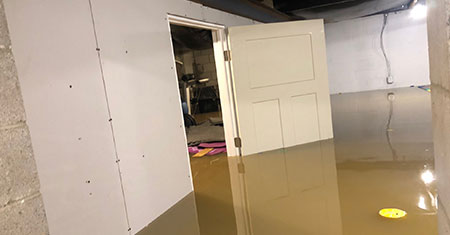 Common Sources of Water in the Basement
The sources of water intrusion into a basement are innumerable but can be broken into several common categories.
Foundation issues such as cracking and seepage won't usually cause significant, dramatic water damages, but they can cause insidious leaking that can cause extensive damage over time.

Floodwaters are waters that flow from the top of the ground across the threshold of a door or window and into the basement.

Sump pump failures and main drain backups both typically occur when there is an excessive amount of rain or a rapid snow melt.

Plumbing issues are a very common cause of water in the basement and can be found in the form of burst pipes, backed up lines, overflowing toilets, and more. They also have the potential to cause sewage issues.

Appliances and utilities often found in basements such as washing machines, hot water heaters, and HVAC systems all have the potential for leaking.
Water Mitigation
No matter the source of the water, proper mitigation is integral because many of the sources have the potential to add sewage to the basement, and all of them have the potential to cause extensive direct water damage and mold growth. Insurance coverage varies depending on the source of the water, so it's important to call your agent as soon as you notice any moisture in the basement. Once the source is determined and the water stopped, mitigation can begin. A professional restoration company can extract any standing water, demo unsalvageable materials, set drying equipment, and clean and sanitize the structure and contents to prepare the basement for any rebuilding and reconstruction needed.
Unexpected water in the basement leads to damaged walls, flooring, and contents, not to mention creating the potential for mold growth. Determining the source of the water is essential to fixing the problem and restoring the property.