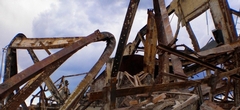 This the season to be busy with the hustle and bustle of the holiday season! With so much planning for festivities and the many activities that fill our days in preparation for Christmas, we tend to forget that anything unplanned can happen. Water heaters and water lines burst resulting in flooding your home, a toilet overflows, an oven catches on fire while baking, a towel is left too close to the burner on the stove, an electrical outlet is overloaded and bursts into flames, sewage backs up into your home…all of these are only some examples of unexpected disasters that can happen to your home without notice.
In the event that an unexpected disaster happens to you, call HCI Fire & Water Restoration at 910-405-8372 today! We offer 24 Hour Emergency service and are licensed and insured and certified by the IICRC. Let our team of certified technicians help to quickly restore your home.
One Call and We Handle It All!
Residental & Commercial
Visit our Website at: www.EmergencyResponse.today