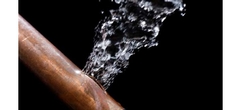 During winters, burst pipes can be more common than you think. Although most homeowners would like to pretend that they aren't at risk of burst pipes, they can be wrong. Frozen pipes can affect anyone, and you might need some degree of restoration for water damages afterwards.
How pipe freezing and bursting happens:
When the homeowners turn off their water, the water stays inside the pipes. This water stays inside the pipes throughout the seasons, but in winters, because of the low temperatures, the water can freeze, especially in outdoor pipes that aren't as warm as the inside of the home.
When water freezes into ice, it expands. This is because of the rearrangement of molecules in water, which causes it to need more space and hence expand. This also happens inside the pipes in winters; the water expands and expands, creating pressure, until the pipe bursts. This can happen a lot in unattended homes and even in places like basements that aren't often kept warm along with the rest of the home.
The resulting water damages:
One would think that since the water is all frozen, there should be no water leaking from burst pipes. However, because water from behind the frozen water is still moving towards the faucet, when the pipe ruptures, water gushes out of the pipe and gets everywhere.
What you should do if you encounter a burst pipe:
The first step that you should carry out in an emergency if you see water gushing out of a wall, sink or in the basement, etc., is to shut off the water supply to the home as soon as possible. As a result, at least the water collecting in your home will stop, so you can actually start working on how to fix the problem itself. The next part of fixing this problem is to remove the water that was collected inside your home.
This step should be carried out by a professional restoration services company. They will need expertise and essential tools to completely remove all the water using drying and humidifying techniques. This is important as this way they can ensure that all the water will be removed and cannot cause any further damages to your home.
Techniques used to deal with the water damage:
Not only that, but restoration professionals may use techniques such as structural cleaning, drying of the floors, applying antimicrobial treatments to reduce the growth of molds and bacteria, a thorough inspection of the home to look for potential mold growth, and even usage of a sewage clamp in case of emergencies. After this, they will carry out an effective repair of the burst pipe, and help a restoration of any affected appliances or furniture. Finally, measures will be taken to ensure any smells are removed.
Burst pipes can be easily dealt with if you are fully aware of what they are and you call up an appropriate restoration service to show up and help you out in time.
One Call and We Handle It All!
Residental & Commercial
Visit our Website at: www.EmergencyResponse.today