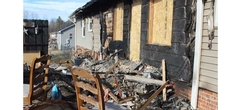 A fire can hit your home without you seeing it coming. Fires can actually start as a result of various reasons, regardless of the age of your home. The scenario that a fire presents can be one of the most nightmarish situations that a homeowner can face. It's not only disastrous and a huge loss of precious memories and belongings, but can also pose a huge financial loss that can gather a large cost for the homeowner. But the biggest worry for a homeowner would be the question of what to do once the emergency is over.
The immediate danger and assessment:
The one thing you need to take care of is that you shouldn't enter the home until you have official permission from the people in charge of putting out the fires. In some cases, some minimal damages may still be present which can still pose a health risk. Next, if you are the homeowner, you will need to contact the insurance company. They will then help you rebuild your home and provide you on the tips on what to do next.
The provider will then help you minimize the potential damages to the home, and you can help them out by providing them with an itinerary of the damages that were made during the fire. This will help you secure your home and prevent robberies and other potential damages. The people from fire restoration and insurance companies will also work on assessing the potential damages that could have been acquired during the fire.
Replace and repair any lost items:
One of the most important things that the homeowner will worry about when it comes to dealing with the items lost during the fire, is to replace them and repair what you can. This can include important documents and precious belongings that have sentimental value for you. When you return home after the fire, make sure to take photographs of the damages so that you can show them to the insurance companies when you are filing for your claim.
Calling in the restoration companies:
If the fire in your home was very bad, you might have to deal with the nuisance of having to rebuild the house completely. You will need to contact a restoration services company that will help you through this entire process. Damages from fires can create unpredictable results that will need the expertise of the professional restoration services companies. They will help you deal with the smoke damage and odor as well.
If you have just experienced a fire inside your home, don't hesitate to call for help. The damage from a fire can be a nightmare to work with, which is why you will need help from people who know what they are doing. Contact an appropriate restoration company that can give you the services you require. They will not only help you rebuild your old home, but also repair damages and also aid you on the filing of insurance claims.