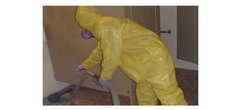 A sewer backing up and overflowing into your home through the drains can be a huge problem for anyone. Not only is it difficult to look at and smell, but the situation is actually pretty dangerous for the average person. The question comes up, should you try and take care of the sewage on your own?
Simply put, the answer is a definite no. Most people aren't equipped with all of the required tools and training that can enable them to handle the situation without fear of any repercussions. This is because the sewage can have some toxic substances as part of it, which can prove very dangerous to anyone exposed to them, especially if they're not trained and don't have the right gear or equipment.
What to do in an emergency situation:
If you find that sewage has backed up on your home, you shouldn't need to delay any further. Instead of wasting any time on the matter, call up a sewage damage restoration service at once. The restoration team employed will help you clean up your home effectively and keep your family and loved ones out of the reach of any serious health risks.
Keep yourself safe from any dangerous backed up sewage:
One of the most important things about backed up sewage is that it can be very dangerous to all the people exposed to it. The water, in this case, is actually the very dangerous Category 3 or "Black Water" – this kind of water is very harmful, and contains substances such as toxins and microorganisms that can pose a huge health risk. By leaving it, you can put yourself at risk, along with the family members living in the home.
Viruses in the sewage can pose a huge risk:
More than a hundred different kinds of viruses can be found in human waste. This is actually only partially what constitutes a backed up sewage system. These can actually be very dangerous for all the people who can come in contact with them. Some of these are disease carrying, such as the Rotavirus, which can actually cause severe and sometimes fatal diarrhea in young children. Other such viruses are Adenoviruses, which can be responsible for respiratory system infections and Norovirus, which promotes stomach flu, among others.
How to treat backed up sewage:
Bleach is often the easiest way of dealing with stains and other spills inside the home. However, sewage isn't like ordinary spills and stains. The water that makes up the sewage, Black Water, is very dangerous, and more importantly, often resistant to ordinary cleaners like bleach. The water may contain viruses that are can resist the effect of the bleach and still survive after treatment.
Sometimes, even a heavy dose of bleach won't do much to save your home from infection. What you need to do in this case is to call in a professional clean up or restoration company. They have the knowledge and tools that can help you stay safe and effectively clean up.