Crawlspace Encapsulation in Rockingham, NC, and the Surrounding Areas
Crawlspaces are a breeding ground to collect moisture for a variety of reasons. Groundwater, leaks in the foundation, or rising water tables can all be culprits, but when it appears, it can cause tremendous damage to your home or business. Reach out to certified technicians like HCI Fire and Water Restoration as at the first sign of water damage.
Call Us for Your Crawlspace Solution
Ready to Respond 24 Hours a Day
Able to Repair Any Water Damage
Solutions to Avoid Future Issues
Family-Owned and Operated
As moisture rises from the crawlspace to the lower level of your home, it can cause buckling of hardwood floors, moldy carpets, and high relative humidity in your home which ultimately creates hazardous, unhealthy conditions. If moisture is a continuous issue in your home, and you believe it is coming from the crawlspace, HCI Fire and Water Restoration has solutions.
HCI Fire and Water Restoration is available 24 hours a day, 7 days a week to service Rockingham, NC, and Anson, Chesterfield, Marlboro, Moore, Richmond, and Scotland counties. With over 20 years of experience restoring properties to their original condition, we can protect your home from the naturally occurring moisture with crawlspace encapsulation.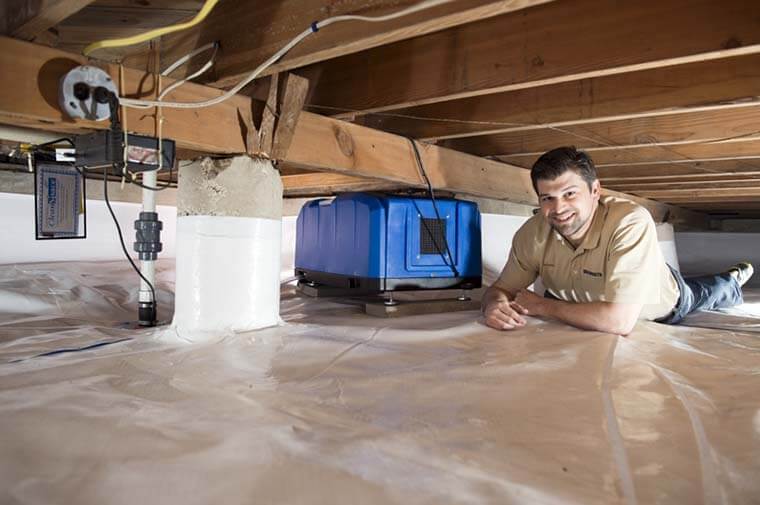 Crawlspace Encapsulation Process
HCI Fire and Water Restoration follows a proven process to encapsulate your crawlspace successfully.
Step 1: Analyze the Crawlspace's Current Condition
Not all crawlspaces are "encapsulation-ready." Some may need a little preparation to ensure future moisture problems do not arise. At HCI Fire and Water Restoration, we understand we may need to perform a bit of pre-work before the encapsulation solution process. We will identify those needs during our initial walk-through.
Step 2: Determine the Solution & Prepare the Space
Upon reviewing the crawlspace, we will put together a strategy for the crawlspace encapsulation process of your home. This strategy will include identifying where the moisture source is coming from, determining how much labor and materials are required, and communicating the plan to you.
During this process, we will also identify if a sump pump installation or any other crawlspace solutions would prevent future moisture infiltration.
Step 3: Install the Crawlspace Vapor Barrier
HCI Fire and Water Restoration uses a 12-mil vapor barrier strong enough to withstand wear-and-tear for a long time. The vapor barrier keeps moisture from infiltrating your home and serves as a protective barrier against bugs and rodents.
Step 4: Insulate & Seal the Crawlspace Entrance
Next, we will insulate and seal any cracks, crevices or openings within the crawlspace. This crucial step assists to keep moisture out of your home and to maintain a healthy environment.
Step 5: Ensure Proper Ventilation of Air
Last but not least, we will ensure the proper ventilation of your crawlspace. We may install a fan or use other methods to guarantee proper temperature-to-humidity ratios.
Choose the RIGHT Professional for Your Project
Servicing Rockingham, NC, and Anson, Chesterfield, Marlboro, Moore, Richmond, and Scotland counties, HCI Fire and Water Restoration is available 24/7 with dispatchers ready to take your call.
If you would like one of our trained technicians to evaluate your property, give us a call at 877-586-2924. Let HCI Fire and Water Restoration provide solutions to restore your crawlspace to a healthy, safe environment.